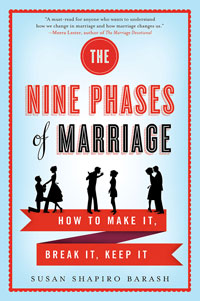 In THE NINE PHASES OF MARRIAGE, Barash offers us a groundbreaking look at how to understand your marriage and create a more satisfying relationship.
Barash chronicles the true confessions of women who have been through it all – including marriage, childbearing and rearing, divorce, remarriage and the death of a spouse. The stages of marriage she reveals include:
The Hopeful Bride: Eighty-five percent of women long to be married but do they want the wedding or the marriage? Celebrity culture creates an infatuation with the "perfect wedding."
The Perfect Wife: New wives strive to have the perfect marriage, often sacrificing their needs to make their husbands happy.
Child-Centricity: Focusing on the children more than "the couple" can either make or break a marriage.
Midlife Disappointment: Unhappiness and dissatisfaction in the marriage creeps in at some point for 70 percent of wives.
Loss of Closeness and Infidelity: Most women who cheat feel they are entitled to the affair after doing all they could to keep the marriage together, with little in return.
A Second Chance at Love: Most women feel there are better options than their current spouse. High School reunions, Facebook and other technologies make it easy for husbands and wives to reconnect with old flames.
Success in the Golden Years: If you haven't given up yet, you're most likely in it for the long haul and have learned to handle your spouse and let go of trivial conflicts.
THE NINE PHASES OF MARRIAGE explores fresh territory and exposes the truth behind how wives really feel about their marriages. It is with this essential knowledge that  women can successfully navigate the natural pitfalls and perils of their marriages and embark on a true partnership.