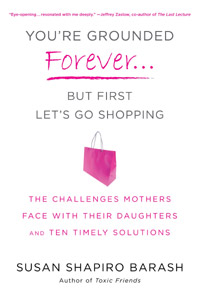 An eye-opening study of mothers and daughters of all ages, YOU'RE GROUNDED FOREVER… BUT FIRST LET'S GO SHOPPING takes an unprecedented look at motherhood for young, teenage and adult daughters today. It explores the major issues facing mothers with daughters and offers ways to improve matters.
Barash's meticulous research and guidance includes:
Defending our Daughters: Mothers tend to absolve daughters rather than face the problem.
Lacking Limits: Mothers report major confusion over who is in charge.
Encouraging a Material Life: Mothers admit to communicating through indulgences.
Being Critical of your Daughter's Appearance: Mothers report over emphasizing beauty.
Making too Much of Food and Dieting: Mothers and daughters both wrestle with this issue.
Romantic Lives: Daughters consider their mothers sexless and clueless.
Fostering Independence: Mothers often hold their daughters back even with the best of intentions.
In this breakthrough book interspersed with personal stories of women of all ethnicity, age, and social strata Barash graphically illuminates the complicated world of mothers and daughters: their dreams, realities, and ways to progress.
BUY THE BOOK: amazon.com | Barnes & Noble | IndieBound.org
PRAISE
"As the father of three daughters, I found so many things in this eye-opening, well-researched book that resonated with me deeply. I was eager to give it to my wife and daughters to read–to help them understand and enrich the bonds between them."
– Jeffrey Zaslow, co-author of The Last Lecture
"You're Grounded Forever… dives into the true complexity of the mother-daughter relationship. Drawing from generational to current-time issues with research and other women's stories, Barash illuminates and normalizes the inevitable conflicts and provides gateways for aware and conscious modern mothering. Embrace, read, and absorb solutions!"
– Karyl McBride, PH.D., author of Will I Ever Be Good Enough? Healing the Daughters of Narcissistic Mothers
"Barash's book is a thoroughly well-researched and solidly reported exploration of the challenges, concerns, and conundrums involved in mothering daughters. She skillfully illuminates the extraordinary variety of women's experiences in their most complex and demanding role and relationship."
– Jane Adams, PH.D., author of I'm Still Your Mother and When Our Grown Kids Disappoint Us