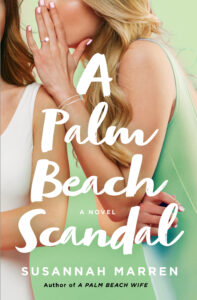 Veronica and Simon Cutler and their dazzling adult daughters, Elodie and Aubrey, strike an enviable pose, the ultimate Palm Beach family. In a town where social aspirations, wealth and charm prevail – they are transcendent. While the sisters are polar opposites, they are fiercely loyal to one another.
And then one stupefying secret, meant to be buried forever, is unearthed and no one in the Cutler clan is able to turn back. As the family is shaken to their core, Aubrey and Elodie must realize their places in the world and the lives they want to lead.
In the midst of the unforgiving opulence of Palm Beach, A Palm Beach Scandal is a story for our times. A captivating tale of discovery, sisterhood and love for others where you least expect it.
PREORDER NOW:
Amazon.com | bn.com | Books-a-Millian | IndieBound.org | Bookshop.org |Powell's | Target
PRAISE FOR SUSANNAH MARREN
"Deftly written with a narrative style of entertaining storytelling that pays attention to background detail and the drafting of memorable characters, A Palm Beach Scandal by novelist Susannah Marren will be an enduringly popular addition to community library Contemporary General Fiction collections." — Midwest Book Reviews
"A great novel which explores some great themes: family, loyalty, what we will do for each other and what is right to ask of each other." — Girly Book Club Review
"For readers who appreciate modern and sensitively written stories about family, especially sisters." — Library Journal
"Marren is a masterful interpreter of hidden feelings and the ramifications of keeping secrets." — BookTrib
"The mystery and intrigue will keep readers holding on until the shocking ending they won't see coming." — Publishers Weekly on A Palm Beach Wife
"[A] fast-paced first novel." —The New York Post on Between the Tides
"Engaging characters and vivid settings indicate Marren's promise."—Booklist on Between the Tides
"A page-turning, commanding novel."—Holly Peterson, New York Times bestselling author of The Manny and The Idea of Him
"The novel is moody and despairing, the writing poetic and abstract, the women cleareyed yet complacent…With characters as unreliable as these, everything is left in question." —Kirkus Review on Between the Tides