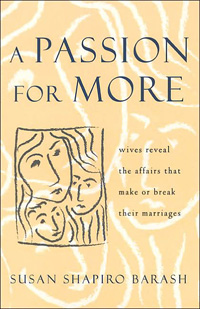 Traditionally, women have broken their marriage vows in silence. But more and more they are opening up about the extramarital affairs that liberated them, reawakened their sexual desire – even saved their marriage.
A Passion for More is the first-person accounts of nearly sixty women who have taken lovers. They range in age from 25 to 65, in background from secretary to physician. Their stories are divided into four groups: Empowering Affairs, Sex-Driven Affairs, Love Affairs, and Self-Esteem Affairs. The book explores why women take lovers, and how they handle two men in their lives – sometimes more. We learn if it's possible to maintain a longstanding affair and a marriage at the same time, as well as the effect on a couple of "confessing."
A Passion for More draws the veil from a tradtionally taboo topic, and gives a startling look into the phenomenon of female infidelity.
BUY THE BOOK: amazon.com | Barnes & Noble | IndieBound.org
PRAISE
"Susan Shapiro Barash's A Passion for More gives insight into the inner thoughts and desires of women who lead a double life—that of wife, and that of lover. A timeless subject, given intriguing and enlightening treatment." — Robyn Todd, Author of How to Survive Your Boyfriend's Divorce
BEHIND THE BOOK
WHY MARRIED WOMEN ENGAGE IN EXTRA MARITAL AFFAIRS
MORE WOMEN TODAY THAN EVER BEFORE CONFESS TO SECRET TRYSTS
According to Susan Shapiro Barash, author of A PASSION FOR MORE: WIVES REVEAL THE AFFAIRS THAT MAKE OR BREAK THEIR MARRIAGES, women today explore extramarital relations with a sense of entitlement. "It is a time when women feel empowered, where their options are open. An affair is simply a form of expression of this independence and ascending self-esteem. " explains gender expert Barash.
In A PASSION FOR MORE, four categories emerge that determine the type of affairs married women have:
Empowering Affairs: With more opportunities for women today in every aspect of life, women now experience younger men and workplace affairs. This 'boy-toy' mentality of women combats a fear of aging.
Sex-Driven Affairs: The marriage becomes old and sex dwindles. The major component of this type of affair is the sex: it is without boundaries or rules, an out of body experience for the women.
Love Affairs: Unanticipated and heartbreaking, these affairs happen when women least expect them. Often they break up the marriage or are used as a wakeup call for the husband, to improve and battle for his wife to stay.
Self Esteem Affairs: Women have lost their way, consumed with the responsibilities of child care and household duties. A lover makes them feel special in a way their husbands do not.
In this breakthrough book, told through personal stories interspersed with the comments of experts, Barash provides all that women need to know before embarking on an extramarital affair. For those who feel they would never stray, the book provides a first hand view of how women feel as their lives are forever altered by their encounters with the other man, their lover.