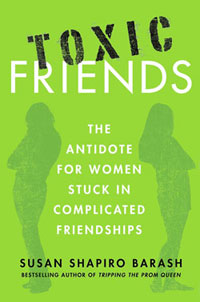 A woman can always count on are her friends—right? But what if those friendships are hurtful, harmful, even toxic? Susan Shapiro Barash explores the ten types of female friends and shows you why and how women get stuck with the worst kinds, the ways to get "unstuck, and how to recognize a true friend."
For example:
The Leader of the Pack—it's all on her terms
The Doormat—and why you're the one paying the price
The Misery Lover—she wants to feel your pain. Really.
The User—and why you seldom see her coming
The Trophy Friend—and what you gain from each other
Provocative and fascinating, Susan Shapiro Barash looks at the bonds (and bondage) of female friendships in a new light.
BUY THE BOOK: amazon.com | Barnes & Noble | IndieBound.org
PRAISE
"Drawing on riveting testimony from hundreds of women, Barash explores the fraught subject of female friendship, from backstabbing and husband-stealing to lifelong love and loyalty."
— Leslie Bennetts, author of The Feminine Mistake
"Toxic Friends teases out the nuances of female friendships in unprecedented detail. Susan Shapiro Barash shines a light on the complicated feelings and questions we seldom discuss but feel so powerfully. You will see yourself and the friends who most beguile you in these pages."
— Rachel Simmons, author of Odd Girl Out
"Susan Shapiro Barash has now tackled the sensitive, complex, and intriguing subject of friendship…it's hard to imagine a woman who won't identify with and benefit from at least one of the many situations she discusses."
— Cheryl Dellasega, GNP, PhD, author of Mean Girls Grown Up
"In this wonderfully intelligent, honest and compassionate book we gain an understanding not only of the power of female bonds to nurture us or betray us, but the mirror they hold up for our inner selves."
— Debbie Mandel , MA, author of Addicted to Stress: A Woman's 7 Step Program to Reclaim Joy and Spontaneity in Life
"Drawing on popular culture and the unvarnished stories of real women, Susan Shapiro Barash takes an unflinching look at the dark underbelly of female friendships…If you've ever gotten off the phone with a girlfriend wondering why you're still talking to her, then Toxic Friends is the book you need."
— Peg Streep, author of Mean Mothers
"Susan Shapiro Barash steps into the void to help us figure out how to honor those friends who have our best interests at heart and let go of those who don't."
— Susan Piver, author — How Not To Be Afraid of Your Own Life
"This fascinating book about 'the sisterhood' helps women understand and improve our essential female friendships at all stages of our lives."
— Leslie Morgan Steiner, author of Crazy Love and Mommy Wars