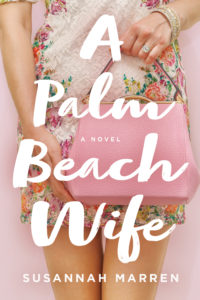 Faith Harrison is the first to admit that she's found everything she was looking for in life but the beauty and privilege of Palm Beach society comes with a cost. Faith may walk the walk and wear the designer labels but there's more to Faith than meets the eye. What will happen when everyone learns that Faith is not the woman she says she is? Who will stand by her side when the truth about her past comes to light? For years, Faith has kept a desperate grip on everything she holds dear. Yet even she, the only one who knows how carefully her image was constructed, could never have suspected how far she would fall—and from whom betrayal would come.
Things begin to implode on the eve of the winter season, when Faith learns of her husband's impending scandal. As this threatens to unravel her world, her own lifelong deception comes to light. Scrambling desperately to save her family, Faith must confront the haunting truth about what she left behind, her buried regret, and the demons that haunt her still. Amid the lush exterior and surreptitious interior, Marren creates intriguing characters, each invested in living the Palm Beach life, where the price of escape and the price of belonging are equally steep.
A compelling tale of love and ambition, secrets and lies, A Palm Beach Wife is an unforgettable novel about the dark side of the American Dream that will keep readers guessing until the very last page.
PREORDER NOW: amazon.com | Barnes & Noble | IndieBound.org
PRAISE
"Marren shows the importance of status for a woman in Palm Beach, Fla., and how easily a few dangerous secrets can take it all away…the mystery and intrigue will keep readers holding on until the shocking ending they won't see coming." — Publishers Weekly
"Razor-sharp, juicy…unputdownable! Few places are as elite and rife with social drama as Palm Beach, and with A Palm Beach Wife, Susannah Marren gives us entrée to the gated mansions and private clubs. A must-read for fans of Lauren Weisberger." —Jamie Brenner, bestselling author of The Forever Summer
"A wickedly fun and entertaining story about high society life in one of America's toniest towns." —Mary Simses, author of The Irresistible Blueberry Bakeshop & Cafe and Palm Beach resident.
"A riveting tale filled with betrayal, passion, aspiration and deep emotion set in fascinating and alluring Palm Beach, which is as much a character in the book as Marren's complex and relatable heroine, Faith Harrison. For anyone seeking an insider's look at the highest echelons of society, A Palm Beach Wife doesn't pull any punches. I couldn't put it down." —Elyssa Friedland, author of The Intermission